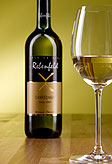 Austrian Quality out of Passion!

Through close cooperation between Rebenfeld Winery and winegrowers from the wine regions in Austria, only selected grapes are processed, whose quality is strictly controlled from the vine to the bottle.

State-of-the-art technology in the cellar harmoniously combines with careful vinification methods to yield optimum results for each varietal and site. The wines of the Rebenfeld Winery are aged both in stainless steel tanks and in small oak barrels. Special attention is paid that the origin of the fruit, the peculiarities of the sites and climes as well as the balance between fruit and structure will be reflected in the wines.

Premium quality at an excellent value for money is the name of the game.